Across Time: Cuban Artists from Vanguardists to Contemporaries
Date:
11/2/2019 to 3/14/2020
Event Description
Over fifty works by contemporary Cuban artists, specifically those associated with the art boom of the 1980's and 1990's will be featured. Artists include Néstor Arenas, José Bedia, Tomás Esson, and Rubén Torres Llorca. All works are from the private Rodríguez Collection, based in Miami, Florida.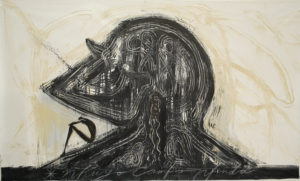 Traces Over the Swamp.
Image credit: José Bedia, Nkuyo Campo Nfinda, 2015, acrylic on canvas, 120.5" x 70." Rodríguez Collection of Cuban Artists